Driving Directions: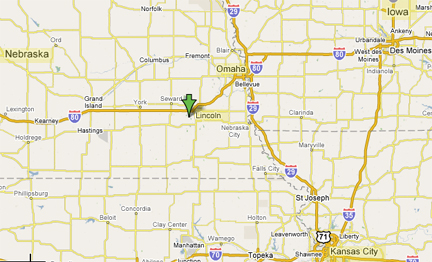 Click on map for interactive driving directions via Google Maps
Instructions For Those Arriving by Air:
The following airports are located near Our Lady of Guadalupe Seminary. We recommend that you fly into Lincoln Municipal airport if possible, but depending on where you live you may be able to find a considerably less expensive flight by flying into Omaha. A shuttle service operates between the two airports for a cost of $70 round trip. Please see information below on shuttle services.
OMAHA EPPLEY AIRPORT (OMA)
www.eppleyairfield.com
American Airlines (800) 433-7300
Continental Airlines (800) 525-0280
Delta Airlines (800) 221-1212
Frontier Airlines (800) 432-1359
Mesa Airlines (800) 637-2247
Midwest Airlines (800) 452-2022
Northwest Airlines (800) 225-2525
Southwest Airlines (800) 435-9792
United Airlines (800) 241-6522
US Airways (800) 428-4322


LINCOLN MUNICIPAL AIRPORT (LNK)
www.lincolnairport.com
Allegient Air (702) 505-8888
Northwest Airlines (800) 225-2525
United Airlines (800) 241-6522

If you choose to fly into the Lincoln airport, the seminary will be happy to pick you up. Please indicate the time of your arriving flight on the Registration Form. If you choose to fly into the Omaha Airport you will need to arrange your own transportation to get to Lincoln. You can do this by renting a car and driving to the seminary or using the OMALiNK shuttle.
Shuttle service from Omaha to Lincoln:
OMALink www.omalink.com (877) 473-5465
1. Call OMALiNK and make your shuttle reservation. Tell them the time of your arriving flight into Omaha and they will let you know when the next available shuttle run to Lincoln will be. Shuttles run every two hours, on the hour, from 7:00am - 11:00pm.
2. After you make your reservation, contact Our Lady of Guadalupe Seminary and let us know when your shuttle bus is scheduled to arrive at the Lincoln Airport. When making your reservation, make sure to tell them you are need transportation from the Omaha airport to the Lincoln airport as they run shuttles to and from many different destinations.
3. After your flight, when you arrive at the Omaha airport, collect your baggage at the baggage claim and then go to the Ground Transportation Center located inside center door # 3.
4. Use the Red Phone to call OMALiNK to let them know you have arrived (you may also contact them by cell phone at 877-473-5465). They will then dispatch the shuttle driver to collect you and give you further instructions.
5. Board your shuttle bus and tell the driver you are going to the Lincoln airport.
6. A representative of Our Lady of Guadalupe will pick you up at the Lincoln airport when you arrive.
7. At the close of the training workshop OLGS will take you to the OMALiNK shuttle terminal in Lincoln for you to return to the Omaha airport to catch your return flight.
8. If there is a delay/cancellation for your flight(s), please contact Our Lady of Guadalupe Seminary as soon as possible with the new shuttle information.